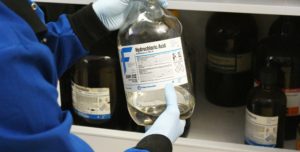 Laboratory operations involving chemicals present a great diversity of health and physical hazards. Laboratory personnel must be able to recognize these hazards and implement practices and procedures to minimize potential risks.
To help guide laboratories with implementing necessary and best safety practices for their chemical operations, Environmental Health and Safety Services (EHSS) has developed a Laboratory Chemical Safety Plan which outlines general responsibilities, requirements, and procedures to help minimize chemical risks in the laboratories. Laboratory principal investigators (PIs) must incorporate the applicable components of this Plan in their laboratories and adapt and expand them as necessary to help enhance and promote safety in the laboratory's chemical operations.
In addition to the Laboratory Chemical Safety Plan, EHSS also offers training, guidance documents, standard operating procedures, and consultation services to support PIs and laboratory personnel in recognizing and controlling chemical hazards and fostering chemical safety in their laboratories.
PIs should register laboratory operations by submitting a Laboratory Door Sign Form and provide updates through their My Laboratory Profile. Updates to the registration should be made as changes occur in the laboratory.