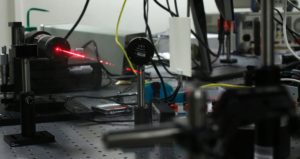 All activities involving lasers and laser systems at Syracuse University must be conducted in compliance with NYS Department of Labor regulations (12 NYCRR Part 50) and in a manner that protects personnel, students, visitors, and property from harmful exposures to laser radiation.
If you will be working in a laboratory that uses Class 3B and/or 4 lasers, it is important to understand basic laser operation and associated safety considerations. Syracuse University requires that personnel with access to high-power lasers have a fundamental understanding of lasers and complete a laser safety training that provides information on engineering controls, personal protective equipment, bio-effects, non-beam hazards, and laser regulations.
All Class 3B and 4 laser at Syracuse University must be registered with EHSS prior to procurement and use.
---
Quick Links: